DELTA Ukraine Charity Event – THANK YOU!
15. June 2022
One thought, one mission, and one important evening for Ukraine and the whole world. The DELTA Ukraine Charity Event took place on June 9th at the Tabakfabrik Linz and combined the good with the special: Our guests participated in the auction for the good cause, enjoyed unique acts and experienced touching and encouraging stories from Ukraine up close.
DELTA Ukraine: Our story
DELTA Ukraine was founded in 2007 within the international DELTA Group. Unique commercial projects, as well as social infrastructure projects, have been realized by our team all over Ukraine. Our team has grown to a size of 70 people by 2021. Since February 24, 2022, and the terrible war of aggression, everything has changed for the whole DELTA Group. Colleagues have been moved out of the country, relief supplies have been organized and work processes have been reorganized.
However, our Ukrainian colleagues are more dedicated than ever and continue to work on projects in Ukraine while also helping their fellow citizens. The DELTA Group has its 45th anniversary this year, but the big celebration had to make way for something much, much more important: a fundraising in the form of a charity event to continue our aid campaigns, which have been ongoing since February. This year, the DELTA Group, therefore, put on a very special event with the primary goal of generating as many donations as possible for relief efforts in Ukraine.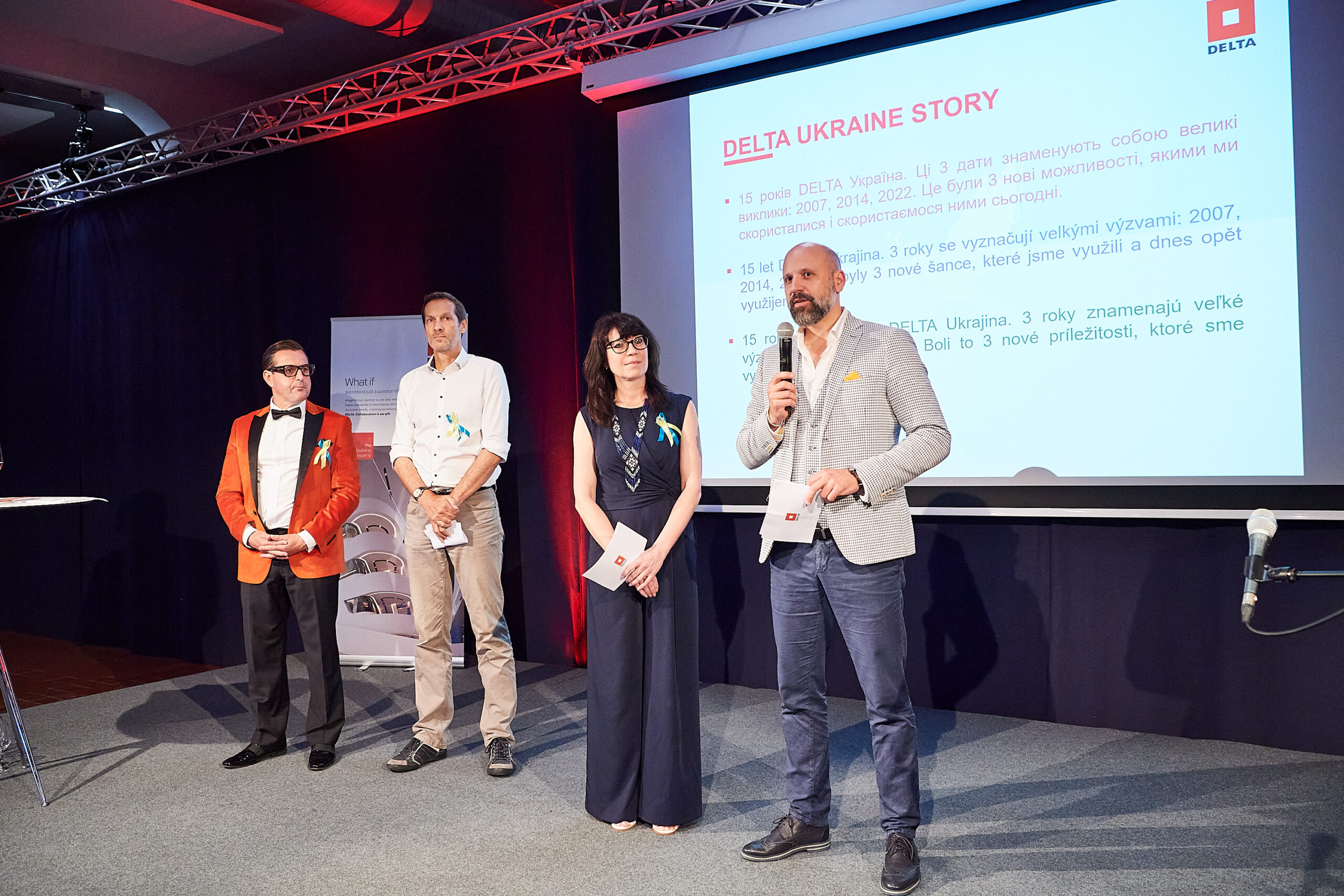 A memorable and versatile evening
Co-owners and CEOs Wolfgang Gomernik, Wolfgang Kradischnig, and DELTA Ukraine CEO Viktoriya Berezhnaya welcomed the guests and told them about our long-standing Ukrainian history. Ukraine CEOs Dmytro Omelchuk and Sergiy Malyshko were connected live from Kyiv to describe the situation there and to express their thanks to the guests.
Employees from all locations as well as customers and partners of the DELTA group were present and not only bid diligently but also had a lot of fun with our auctioneer Chris Müller, CEO of CMb.industries and Director of the Tabakfabrik. In total, donations amounting to an incredible €22.500,- were collected, which will be used for medical equipment, relief supplies for refugees, the reconstruction of destroyed houses, and support for children and young people in Ukraine.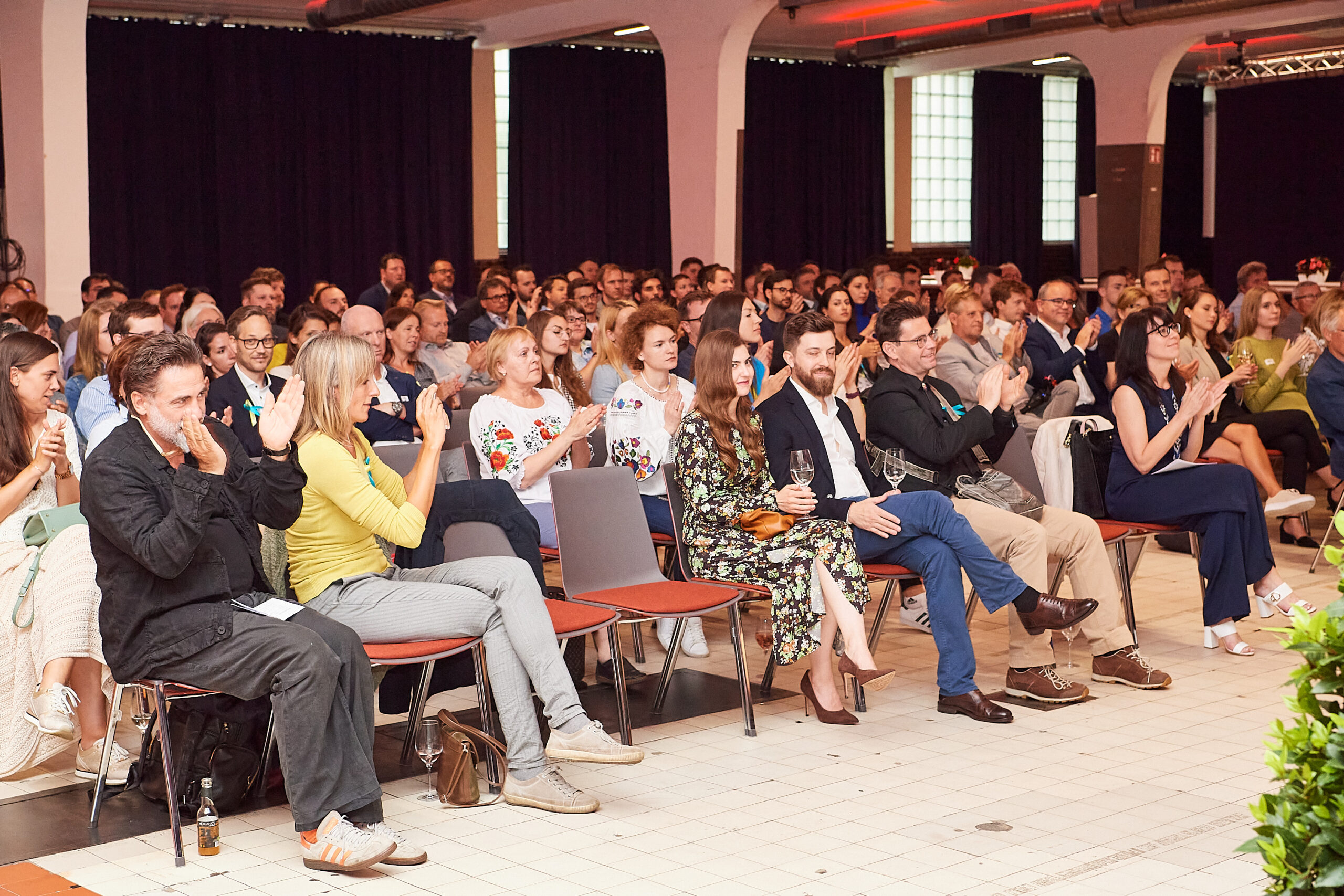 The highlight of the auction was the signed boxing gloves of Vitali and Wladimir Klitschko, which were bought by the brothers Jakob & Ehsan Zadmard.  "It was a great charity event where we could make a small positive contribution by buying the gloves."
Celebrity support for the good cause
Linz City Councilor Dietmar Prammer honored us not only with his presence but also with his uplifting words: "In a situation like this, action is key because doing nothing would mean approving this inhuman war of aggression. That's exactly what events like this do: action is taken."
Great acts like bandura player and singer Oleg Makarchuk, freestyle dance performer Mr. GOR, both from Ukraine, and unique artist and musician Thomas Andreas Beck, accompanied the evening perfectly. The show kitchen with delicious regional dishes by Good Karma was the culinary complement to a successful fundraising event and entertaining networking evening.