Digitalized Timber Construction – Library and Seminar Center BOKU Vienna
13. October 2020
For the BOKU University of Natural Resources and Applied Life Sciences in Vienna, a new library and seminar center was built in wooden construction. The building extends the existing BOKU campus on a usable area of about 3.000 m² and offers space for a seminar center, a library, institute rooms, as well as pool- and user rooms. The open entrance floor and the elevated square form a communicative interface for students and professors from the neighboring existing buildings and the new building. In addition to the atmospheric qualities of wood as building material, the high proportion of daylight contributes to a friendly learning and working environment.
The appearance of the building is characterized by the timber construction, the facade surfaces remain untreated. The grid of the facade is continued in the ceiling construction inside the entrance level and the library, thus giving the building its unmistakable character. The supporting structure becomes a design element, and room-high glazing creates a dialogue between the interior and the surroundings. By opening individual glass elements, the terrace can be used as a marketplace or meeting point for students, depending on the season. The four-storey wooden structure was constructed from prefabricated glulam elements, the base and staircase (fire protection) in contact with the ground are made of reinforced concrete.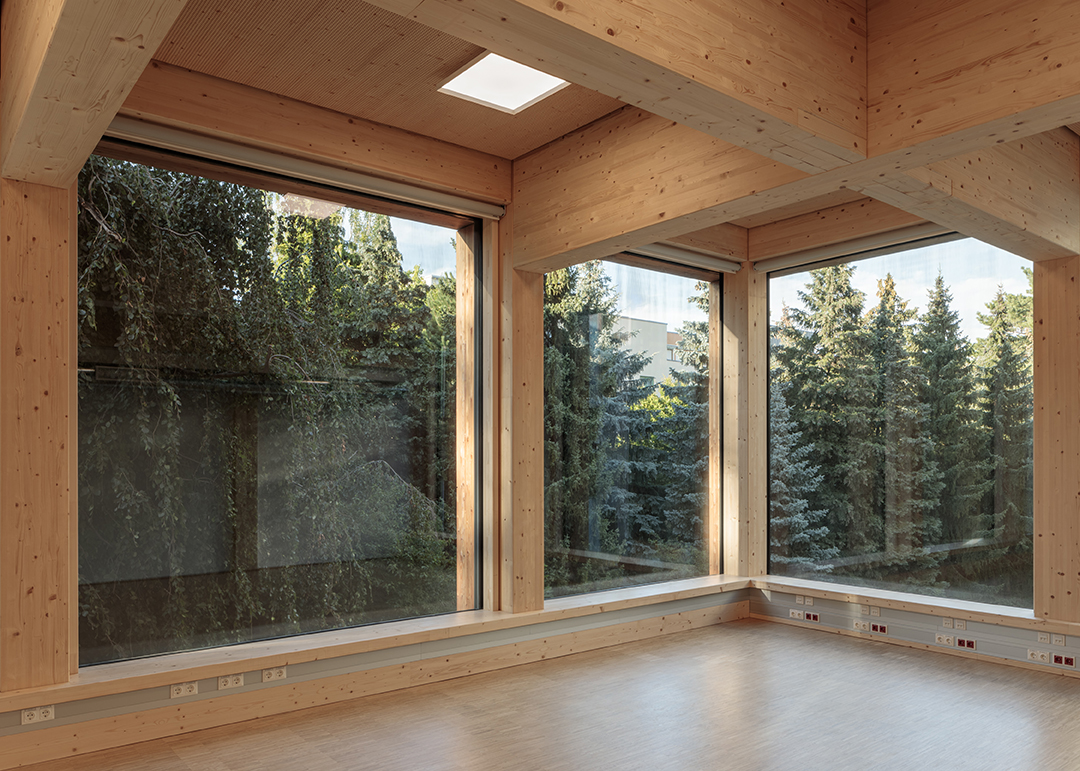 Rooms that can accommodate a large number of people are located on the two lower floors, while the two top upper floors house the institute rooms, each of which has a meeting room and a kitchenette. The two largest seminar rooms, which can be combined, are also located on the entrance floor and, together with the foyer, provide the optimal infrastructure for larger events. Like the seminar rooms below, the learning areas in the library are oriented to the northeast, towards the green space with a precious stock of trees.
The most modern digital technologies were used in planning and construction. An integral BIM model was used in the planning, which was also used in the production of the individual wooden components. In order to check the current quality of the components, accompanying monitoring of the wooden components from the factory to completion provides continuous data on this. Stora Enso Wood Products installed digital sensors in the manufactured wood components, which provide information on current temperatures and humidity levels during transport and during the construction phase. This data is evaluated by the "Track & Trace Tool", which collects data from the so-called Wiiste sensors. In this way, important information about transport, storage, and processing of the timber elements, which may also be relevant for facility management later on, is forwarded.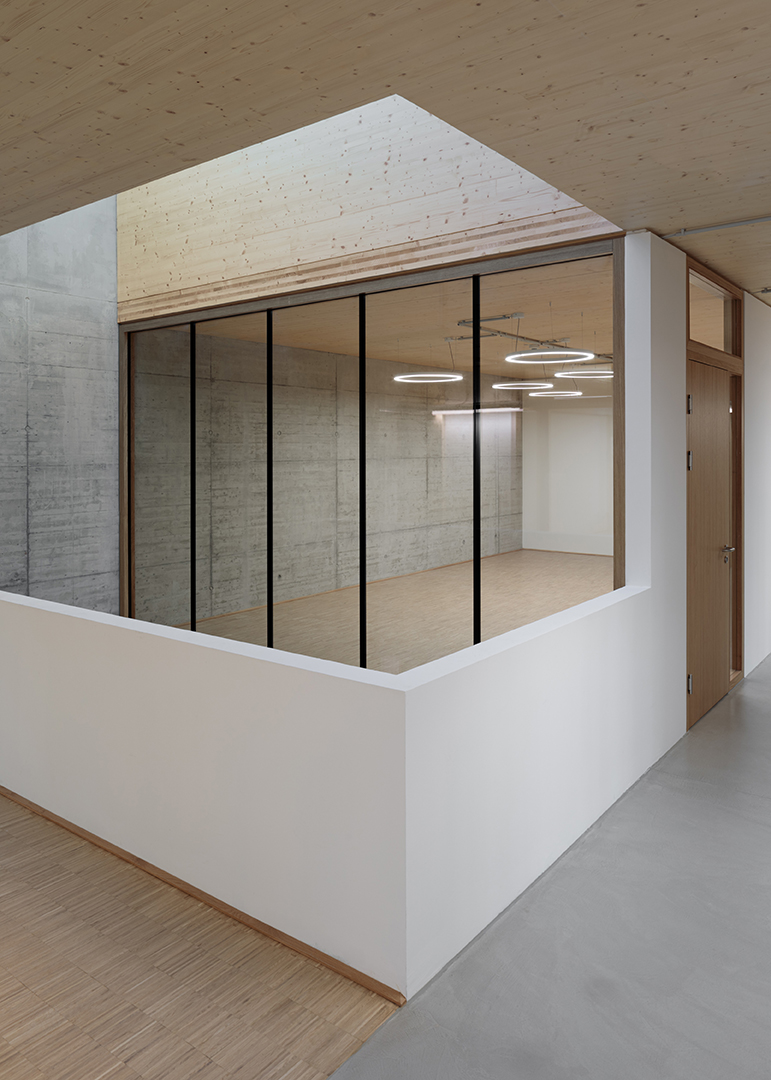 The building has been awarded for its commitment to climate protection – with 965 of 1000 possible points according to the klimaaktiv building standard, it thus corresponds to the Austrian quality label klimaaktiv Gold. In terms of sustainability, in addition to the timber construction method, the compactness of the building in terms of energy efficiency was also taken into account.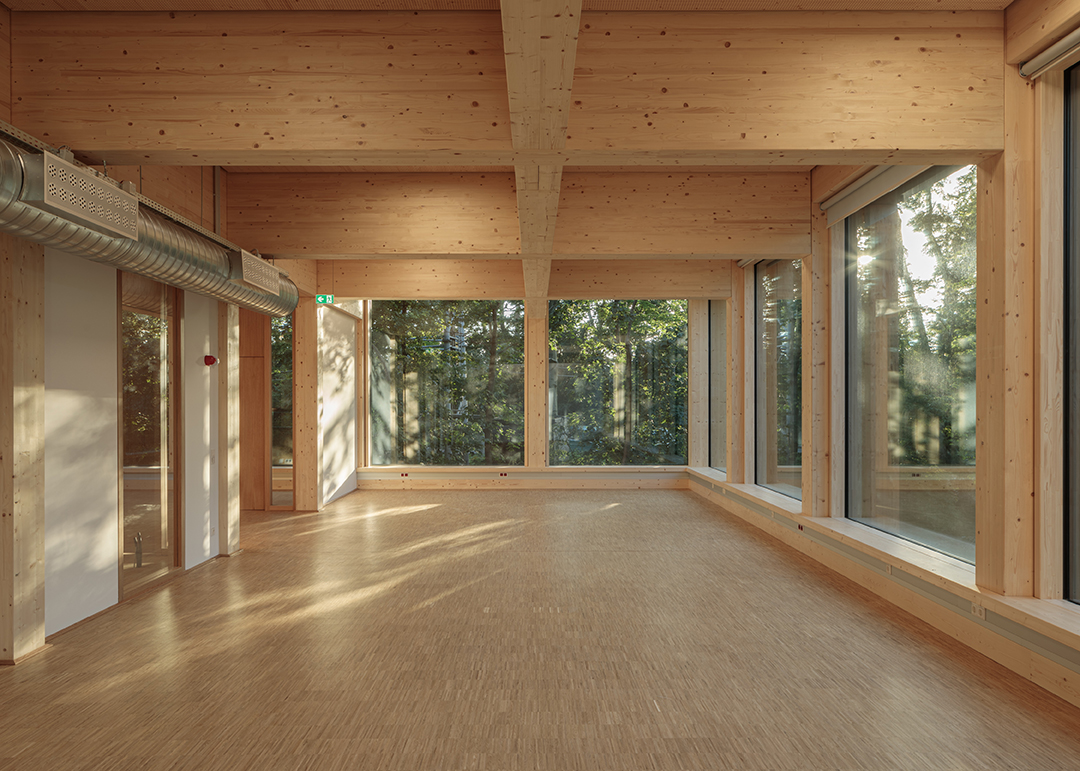 NUMBERS, DATA, FACTS:
Competition: 1st place, 2017
Building start: April 2019
Completion: July 2020
Effective area: Around 3.000 m²
CLIENT
Austrian federal real estate company (BIG)
Trabrennstrasse 2c, 1020 Vienna
USER
University of Natural Resources and Applied Life Sciences Vienna (BOKU)
Georg-Mendel-Strasse 33, 1180 Vienna
ARCHITECTURE + GENERAL PLANNER
ARGE DELTA SWAP Architects