Kindergarten Negrelli street: Space for children as a holistic concept
23. November 2021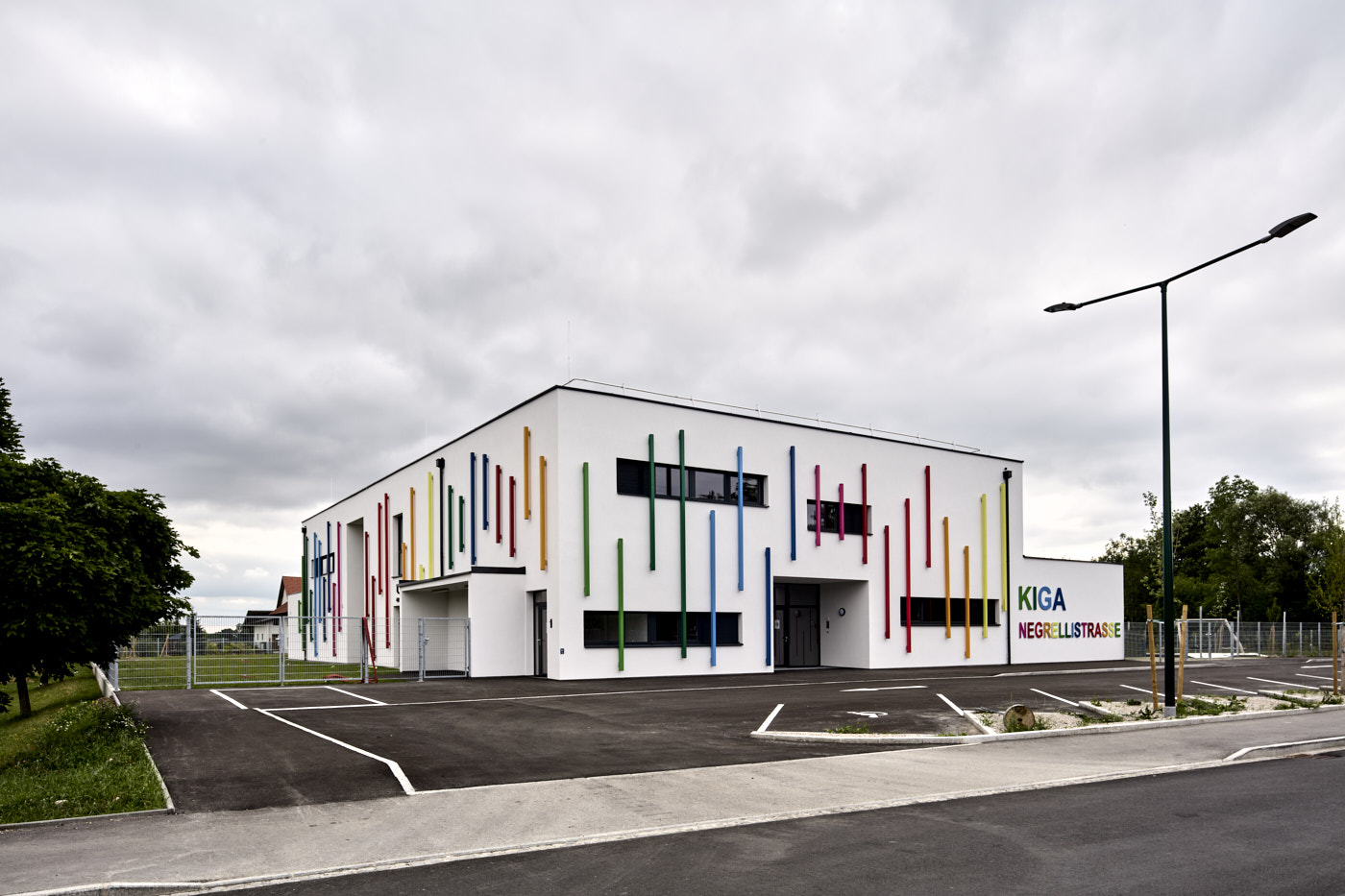 The city of Wels had a 1.500 m² kindergarten built in Negrelli street using a solid construction method. DELTA's architects were able to convince with a very functional and identity-creating design in the application process, as they did with the Negrelli street kindergarten. The detailed and identity-creating design for children and staff as well as the sustainable long-term planning are special highlights of this project.
Design in the service of healthy development
The new 8-group kindergarten is divided into 2 crèche rooms and 6 kindergarten groups with the corresponding ancillary rooms. In addition, rooms such as exercise rooms, dining rooms and areas for the staff were created. The colours of the Wels logo are reflected on the walls and on the ventilated facade (rainbow effect) and serve to identify the respective group. The floor coverings are kept in a calm beige tone, which harmonises with the wood tones and brings out the bright splashes of colour even better. The loggias can be used in all weathers and can be furnished in a variety of ways.
Each kindergarten group has a direct exit to the outdoors or to the loggia because the connection to the outdoors was very important to all involved. The windows can be opened safely and the doors are also colour-coded. The loggias on the upper floor can be used with any furniture that is desired, with floor-to-ceiling nets as fall protection.
The positioning of the building is facing away from the street, on the north-west side from the plot, and on the west side, there is a car park and a traffic-calmed entrance area. The playground is located towards the south-east, to the north is the football area, to the south of the site is a stream that needed to be protected. The main rooms face the playground to the southeast and the ancillary rooms face north and the street.
Not only colourful but green too
A key aspect of the project was to think of a long life-cycle and allow the kindergarten to be expanded at a later stage (from an 8-group to a 10-group kindergarten). The cost-efficient low-tech building includes some architectural highlights such as vertical coloured facade elements, a coloured stair railing inside and outside, and coloured ventilation elements. An innovative technical concept with active night cooling uses controlled window elements and a fan on the roof to create negative pressure and thus ventilation through the building. There is also a green roof on the 1st floor. Play areas in the garden should not only be shady and green but also robust and durable, which is why a gravel lawn was laid here.
Sabrina Schubert, architect at DELTA, describes the design: "Planning a kindergarten for the youngest members of our population is a special challenge for me as an architect. When the little ones go to kindergarten or the crèche, a new exciting phase of their lives begins. The design of the building is made in a way that they quickly feel safe and comfortable in the new situation. The good cooperation with the project management of the general contractor and the city of Wels was crucial for the successful completion."