Competence in large format: Merger of architect Podsedensek and DELTA ZT GmbH Vienna
15. September 2020
A fresh breeze is blowing through the Austrian architecture scene. Two local architectural offices, Architekt Podsedensek ZT GmbH and Delta Ziviltechniker GmbH Vienna, part of the internationally active DELTA Group, merge into one company and now form Delta Podsedensek Architekten ZT GmbH. Vienna, 15. September 2020. For years, experts in the domestic architecture and construction industry have been observing an increasing change. Isolated solutions have become obsolete for customers and a holistic service approach – architecture, construction management and IT from a single source – is increasingly in demand. This development sometimes provides the impulse for partnerships within the industry. Detailed discussions about a common future as Delta Podsedensek Architekten ZT GmbH already started in 2018.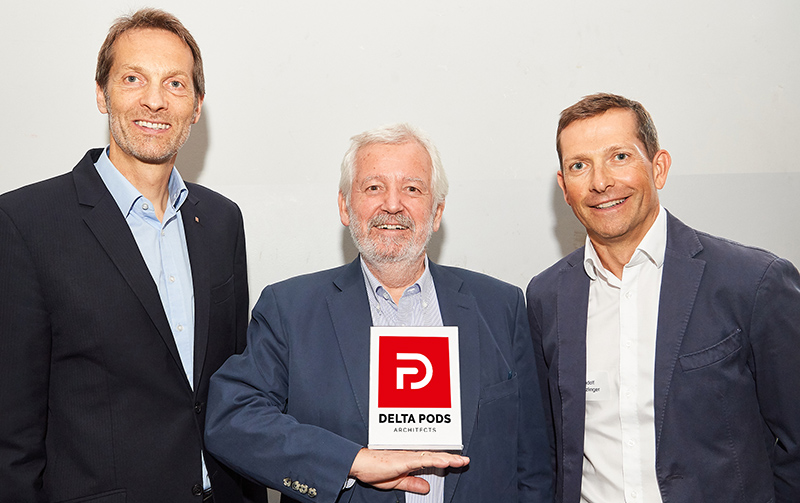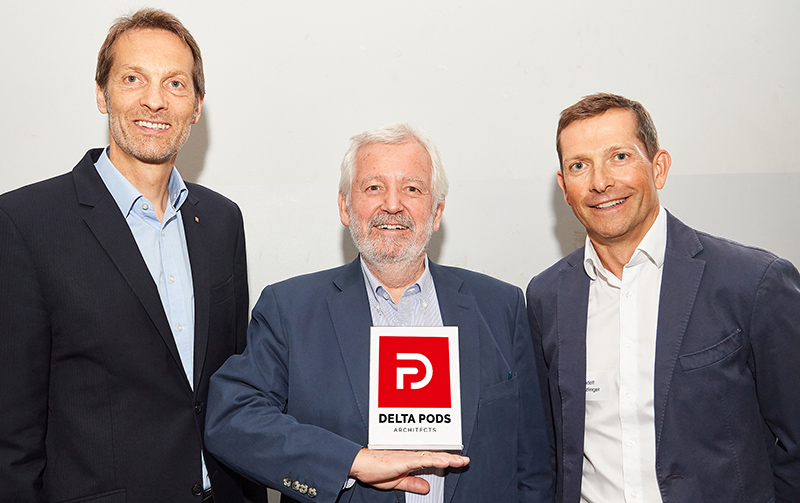 Ready for projects of all sizes
In the course of the project for the University and Research Center Tulln (Lower Austria), the construction management division of the DELTA Group and Architect Podsedensek as planner met each other for the first time. Shortly afterwards, the cancer therapy center MedAustron was built in Wiener Neustadt (Lower Austria) with the participation of both companies. Now, some joint projects later, the successful cooperation led to a final decision and resulted in the merger to Delta Podsedensek Architekten ZT GmbH. "When two strong partners join forces, they become even stronger together. Our shared enthusiasm for architecture and construction is just as well known in the market as our mutual claim to always want to be the best", says Peter Podsedensek, co-founder of Delta Podsedensek Architekten ZT GmbH, explaining the decision. Both Podsedensek and DELTA bring more than 40 years of experience to the table. "We are bundling this profound know-how and can thus cover the entire construction cycle from the idea to the handover even better from a single source", adds Rudolf Stürzlinger, one of the CEOs of the new company. The result is the ability to master projects of all sizes – from urban development, residential and office buildings, hotel and special buildings, to complex pharmaceutical and healthcare facilities – together and holistically. With its grown team of more than 60 experts, Delta Podsedensek Architekten ZT GmbH, together with the companies for IT and construction management belonging to the DELTA Group, sees itself well prepared, especially for resource-technically challenging large-scale projects. "Clients are now offered unique selling propositions which are outstanding in Austria in this form and combination", adds Podsedensek.
Employees as central potential
In addition to the technical complementation, the common understanding of an employee-centered corporate culture is a key cornerstone of the merger. "Mutual respect, trust and an appreciative way of working with each other will characterize our daily cooperation. In the past and today, our employees are our central potential. The joint company offers our employees new opportunities for professional development as well as chances for creative exchange", explains Wolfgang Kradischnig, who as a long-standing industry colleague of Peter Podsedensek played a key role in the merger. At the end of August 2020, the new joint office with more than 1.700 m2 of space in the third district of Vienna was moved into. Peter Podsedensek is well aware that a willingness to change is essential in order to continue to guarantee the best quality for his clients in the future. The aim of the merger is therefore to meet the demand for a comprehensive service. "With this step, we are setting sail for a great future", he is convinced. "The whole is more than the sum of its parts, or in other words, 1 plus 1 is 3. This is what Delta Podsedensek Architekten ZT GmbH stands for and both our employees and our customers will benefit from this", concludes Kradischnig.   More information: www.delta-pods.at