DELTA Ukraine wins the award as "Project management company of the year" for the second time in a row
04. September 2020
On November 26th, the award ceremony was held in Kyiv within the "EE Real Estate Project Awards 2019". The awards were given in the following categories: "Best companies", "Best projects", as well as "Person of the year". The event is organized by EuropaProperty.com and Ukrainian Real Estate Club.
EE Real Estate Awards honor outstanding achievements of companies operating in countries of Eastern Europe and Asia. This year, the event took place for the 5th time. The major aim is to determine the best real estate projects and companies of the industry from Kazakhstan, Azerbaijan, Georgia, Moldova, Belarus, and Ukraine. The jury is represented by the leading market players. The event brings together the main persons of the real estate market: investors, developers, management companies, bankers, financiers, and service providers.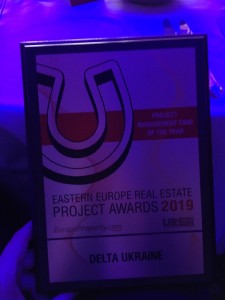 We were glad not only to be present among the participants at this great event, but also to get on stage as a winner! Furthermore, DELTA has also been nominated for the 3rd Annual CRE Awards that is scheduled for the 30th of January 2020 in Budapest.
This award is a great achievement for the entire DELTA team, and we are proud of being honored by the leading real estate experts.