Sustainable, innovative, customer-oriented: New world of working for PVA
01. February 2022
The PVA (Austrian pension insurance institution) building in Vienna's Leopoldstadt district, which was built in the 1970s, is being renovated. The aim is to make the existing building fit for the future and to modernize it for both employees and customers of the PVA. The architectural partnership DELTA PODS and kub a is responsible for the general planning.
Refurbishment is one of the driving forces for a sustainable future in the construction industry. Large-scale projects like the PVA offer the perfect opportunity to show that sustainable solutions also work for complex projects like this one. Building ecology monitoring by expert Barbara Bauer from the IBO ensures a close look at the materials and pollutants used in order to meet the criteria for the desired klimaaktiv certification.
Not only the renewal of the facade and the energy technology are in the foreground, but also the interior of the building. A reorganization of the offices due to the desk-sharing concept is also to be pushed with well-thought-out planning at an early stage. Digitalized processes and flexible use of the premises play an important role here in order to offer employees both a modern workplace and opportunities for decentralized work. In addition to the office space, the center for outpatient rehabilitation and the competence center for assessment will be modernized and clearly zoned.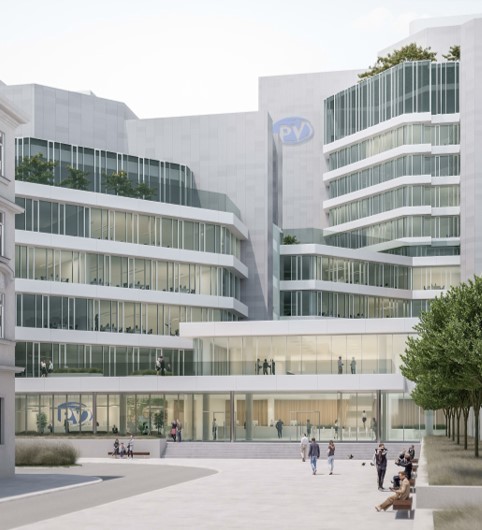 "The entire DELTA Group is delighted with this great success, as the path through a multi-stage public procurement procedure meant an intensive amount of work for all involved. The good partnership with kub a was an important success factor that contributed significantly to the contract," explains Wolfgang Kradischnig, co-owner at DELTA PODS.
Architect Rudolf Stürzlinger, co-owner and CEO of DELTA PODS, is pleased with the order: "The renovation of the PVA building is one of our largest general planning projects so far. We can optimally contribute our decades of experience here and, together with DELTA's accompanying cultural workshops, also strengthen the social aspect of the project."
Ana Jugovic, architect at DELTA PODS, is already deeply immersed in the complexity of the project: "The project is a multifaceted challenge both in terms of project size and coordination in an interdisciplinary large-scale project team. The team spirit and excellent cooperation enable us to plan the project with joy, and thereby achieve the best results."