Delta Pods Architects – New Architecture Brand
23. October 2023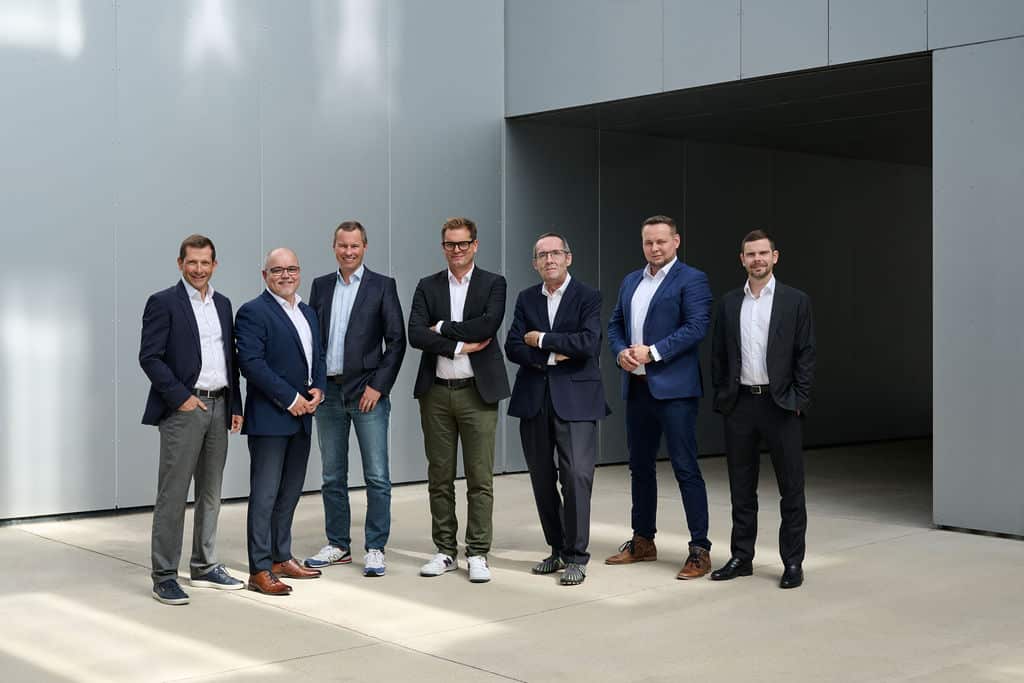 DELTA Group strengthens architecture division with new architecture brand
Delta Pods Architects – with more than 160 employees and active across 4 countries – operating with new brand identity from now on
The Austrian DELTA Group, a full-service provider in building construction, with more than 350 employees and activities in the fields of construction management, architecture and integral consulting, is uniting its international architecture locations under the architecture brand Delta Pods Architects. In addition to a uniform brand identity, the international architectural focus is intended to strengthen cross-border synergies and competencies. Delta Pods Architects comprises more than 160 employees from the current DELTA Group locations in Austria, Slovakia, the Czech Republic and Ukraine.
The focus of Delta Pods Architects will be on topics such as inner-city redensification, revitalization, timber and hybrid construction methods, and the use of digital tools and AI for integral planning (BIM) and construction management. In this way, knowledge and the broad wealth of experience from all projects successfully completed to date, primarily in the pharmaceutical, education, research, revitalization, and healthcare sectors, can be leveraged and complemented by new services (e.g., IPA management, BIM management and coordination, virtual reality, and sustainability consulting). Current project references include Elisabethinen Linz and Wien-Mitte, the District Office of Salzburg-Umgebung (project "BH Seekirchen"), Campus Ried as well as BOKU Vienna, AKH Vienna and three pharmaceutical projects (Boehringer Ingelheim, Takeda and Biomay).
More about Delta Pods Architects and previous projects: www.delta-pods.com
"DELTA was founded more than 46 years ago as an architectural firm. The now broad DELTA service range offered, from construction management to integral consulting, has not made architectural planning as clearly visible alongside the other services. Therefore, an important step to position and strengthen the architectural focus was the development of an independent international architectural brand within the DELTA world: Delta Pods Architects builds on the heritage of the merger with the architectural office Podsedensek and represents the international architectural quality and innovation of the DELTA Group. We are particularly proud of this!"
 Quote Wolfgang Kradischnig, Managing Director DELTA Group and company spokesman
About the DELTA Group
DELTA is an international full-service provider in building construction and has several locations in Austria, the Czech Republic, Slovakia and Ukraine. Every year, DELTA manages construction projects with a total value of approximately 5 billion euros and has already won numerous awards for renowned projects – such as the "llse Wallentin House" of the BOKU in Vienna or the Coop Award of the "Austrian Construction Technology Association" (ÖBV) for exceptional cooperation services with the partners in the Althan Park project. With services in architecture, general planning, BIM, construction management, IT and digital data environment, DELTA has already completed many successful projects in the fields of industry & office, trade & entertainment, culture & education, residential construction, healthcare, hotel & wellness and infrastructure.
People on the picture: Delta Pods Architects Management (starting from the left: Rudolf Stürzlinger, Erik Štefanovič, Dieter Greiner, Markus Hiden, Konrad Scheibl, Marián Kupka, Dmytro Omelchuk) © 2023 GOLDEN HOUR PICTURES