Augmented Reality and Virtual Reality? At DELTA, this is just the beginning.
The three key areas of mixed reality (XR) are AR, VR, and MR. Augmented Reality adds digital content to the real world and offers great ways to get a feeling for the building and its interiors by having a 2D plan take on a three-dimensional form on the table. This is already possible with simple tools such as smartphones or tablets.
With virtual reality, the building already takes on their specific form thanks to the VR glasses and you get fully immersed in the virtual world. The model is stored and retrievable on a scale of 1:1 with all the data, so you can virtually walk through the building even before construction begins and thus have a realistic experience.
Mixed reality goes one step further by allowing objects from the real and virtual worlds to interact with each other. The BIM model is on the construction site and can thus be viewed in detail before, during, and after construction. This offers numerous advantages not only to the client but also to the construction workers on the site or the facility manager after commissioning, enabling them to work much more efficiently. For example, the following questions can be answered: "Which installation part is in which position with which specifications? Which pipes are behind a specific wall?" and much more.
As you can see, XR offers a wide range of possibilities.
For more information, contact our expert Stefan Schiller: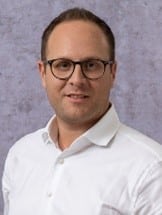 Dipl.-Ing. Stefan Schiller, BSc
Architekt und XR-Experte bei DELTA
E-Mail: s.schiller@delta.at
Telefon: 0043-50-756-752